FILM POSTERS
May 24 – June 3 2017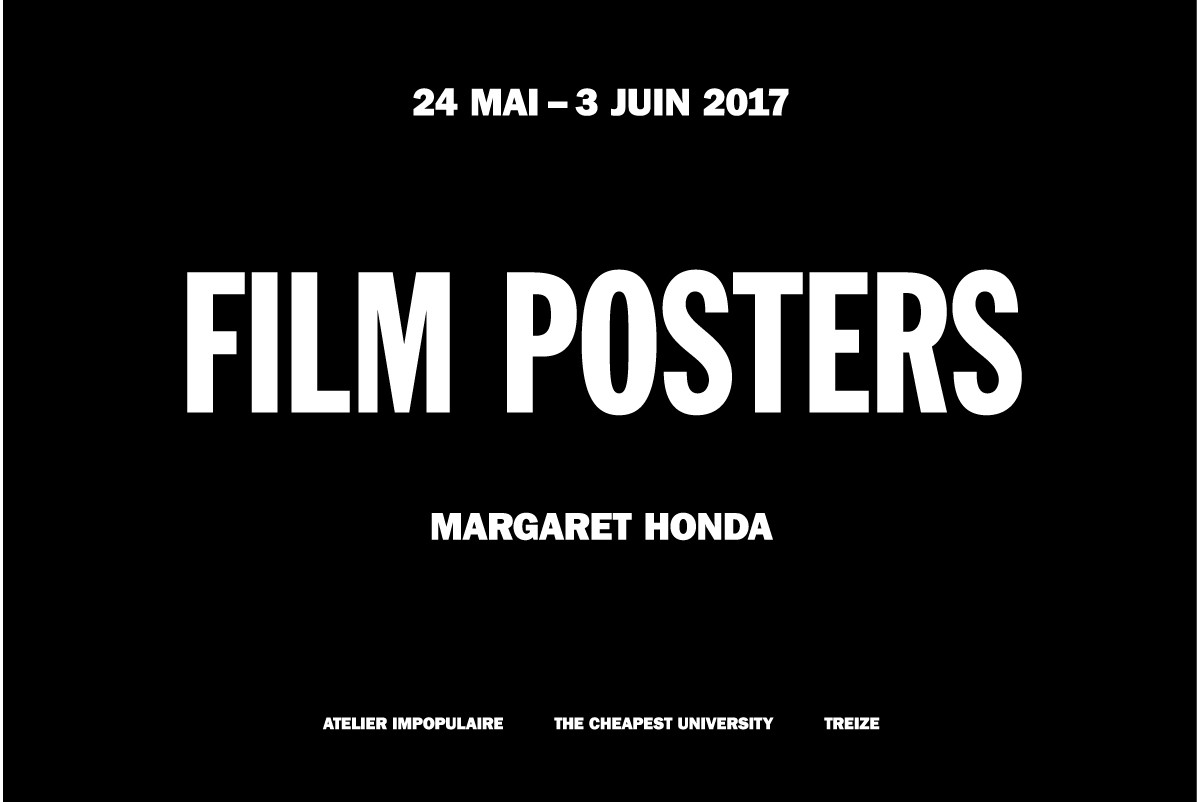 Treize
24 Rue Moret,
75011 Paris
The exhibition presents for the first time the open series of Margaret Honda's Film Posters, (2014-ongoing). When Honda began showing her films in 2014, she made posters in advance of the screenings. At a certain point, she fell behind and began making the posters months after a screening had taken place. At the moment, the rationale for the posters is to be a record of events that have already passed rather than an advertisement for something in the present or future. Viewed without the films, they are their own works, not accessories to another work. The posters, whose formats were established with graphic designer Lucas Quigley, have supported this reading from the beginning. The designs do not fully convey the nature of the films, as conventional posters do. There is simply text and color. Importantly, there is no indication of gauge, sound, or running time. The posters refer to concrete facts (date, time, location, title, director) but the films remain an abstraction.
Curated by Pia Bolognesi
Coordinated by Marco Caroti and François Lancien-Guilberteau (The Cheapest University)
Opening: May 24, 6pm
TOOLS, CONFIGURATIONS, REGENERATIONS, COLLISIONS, ADAPTATIONS, ACCIDENTS.
May 27 2017, 2.30pm – en anglais
Le Carreau du Temple
2 rue Perrée
75003 Paris
Active since the late 80s in the expanded fields of sculpture, photography, drawing and film, Margaret Honda has emerged as a distinctive voice due to a practice defined by an interest on contexts and materiality of production protocols and processes, combined with openly biographical elements. 
On May 27th, surrounded by guests and collaborators, Margaret Honda will be presenting her practice and discussing the fundamental elements of her research. The event will take place in the auditorium of Le Carreau Du Temple, within a discursive frame expressly developed by the artist:
« The title is made up of topics (TOOLS, CONFIGURATIONS, REGENERATIONS, COLLISIONS, ADAPTATIONS, ACCIDENTS) that describe how I think and how I produce things. For each of the sessions, I'll talk about work without regard to chronology or category. The different topics inform each other and many of the works can be located within multiple topics. ELASTICITY and CONVOLUTION would be another title for the lecture.»
A web based publishing project, structured as a site-specific work and a presentation to Honda's past and recent corpus of works – including text-audio-visual material -, will be launched after the event. 
http://margarethonda.thecheapestuniversity.org
Atelier Impopulaire is a curatorial and an artists' collaborative project now based in Berlin. Its research primarily focusing on models of exhibition making, time-based practices, publishing.
Margaret Honda (*1961 San Diego, California) received an M.A. in material culture and a B.A. in art history. Her work in sculpture and film has recently been the subject of one-person exhibitions at Künstlerhaus Bremen and Triangle France, Marseille, and has been included in group exhibitions at SpazioA, Pistoia; the Hammer Museum, Los Angeles; and SPIKE, Berlin. Her films have screened in the US and internationally, in museums and festivals including the Whitney Museum of American Art, New York; Courtisane festival, Ghent; REDCAT, Los Angeles; Berlin International Film Festival; Toronto International Film Festival; and BFI London Film Festival. She lives in Los Angeles.
The event is supported by Le Carreau du Temple, European Cultural Foundation and Compagnia di San Paolo.